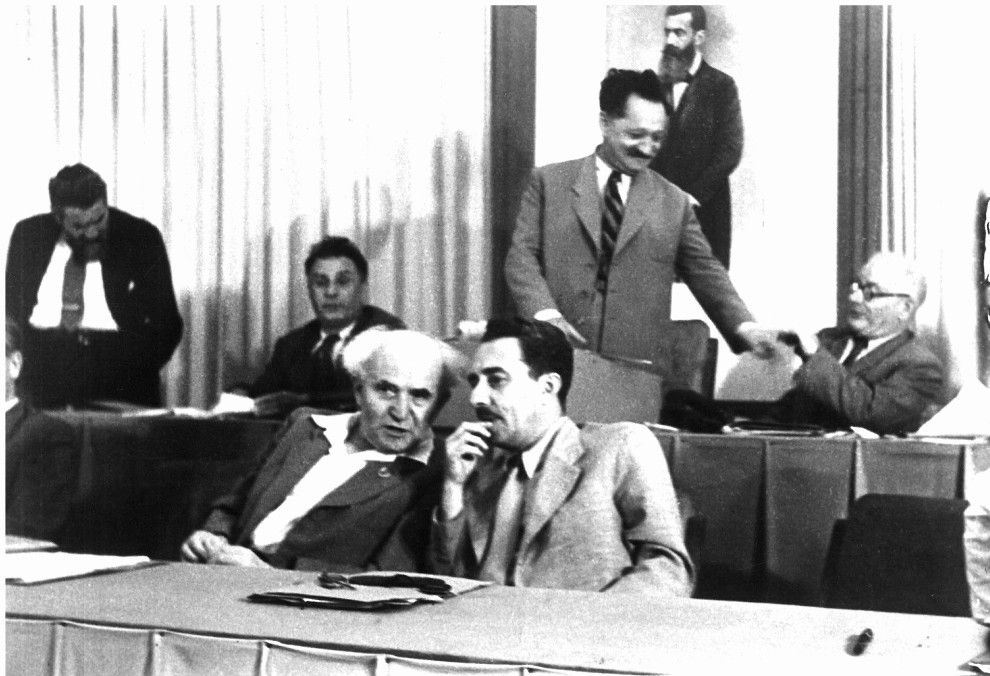 By Julie Sherman
The Edward S. Finkelstein Harrisburg Jewish Film Festival begins Thursday, June 8th, 7pm, at the Alexander Grass Campus for Jewish Life.
Reckonings, the latest documentary from award-winning writer-director Roberta Grossman (Above and Beyond, Hava Nagila), will lead off a four-day event in celebration of Israel's 75th anniversary, with subsequent films screening at Midtown Cinema.
Our opening film chronicles the 1951-52 negotiations between German and Jewish leaders to provide reparations to a people decimated and displaced in the Holocaust.  It was an extraordinary moment in history, with West Germany negotiating directly with Israel, as well as with the newly created Conference on Jewish Material Claims Against Germany ("the Claims Conference"), which represented twenty-three international Jewish organizations committed to the relief of Jewish survivors living outside of Israel. 
Underwritten by the Claims Conference, which is still active to this day, Reckonings is a free screening that will be followed by a pre-recorded interview with Grossman and a dessert reception.   Seating is limited, so registration is advised (at our website, www.hbgjff.com).
Midtown Cinema will be home to the rest of our Festival offerings, beginning on Friday afternoon at 5pm, with Our Natural Right.  When Israel's Declaration of Independence was drafted seven and a half decades ago, every word and comma led to hours of debate.  The declaration was signed and the State established, but the debate still rages.  With archival footage and interviews with the grandchildren of many of the signers, Our Natural Right returns to that time, and revisits the complicated and divisive issues about which the founders tussled that exist in the State of Israel today.
Join us at Midtown Cinema on Saturday night at 9pm for our late night and date night offering, Matchmaking, an Israeli comedy that pits tradition against desire in the ultra-Orthodox community, and the lengths to which one young man will go to win the bride of his dreams. 
Sunday's offerings continue where Reckonings and Our Natural Right left off in illuminating touchstones in Israel's history and character over the last seventy-five years.  Our morning selection, The Little Traitor, takes place at the end of the British Mandate, with the Jews of Palestine chafing impatiently under British occupation as it draws to a close.  Based on the novel Panther in the Basement by Amos Oz, the film is an encore screening of a picture that featured in our 2009 Festival, and we are delighted to present it again as our annual Book Club Brunch Film, with a post-screening discussion moderated by the incomparable Dr. Helen Khanzhina.  Come to Midtown for a nosh from 9am; the film begins at 10. 
At 3pm on Sunday afternoon, twelve senior citizens prove that their get up and go has not "got up and went" in the poignant comedy, The Galilee Eskimos.  Decades after they founded a kibbutz where they still live in the Hills of Galilee, the dozen are forced by circumstance to dust off their pioneer spirit and fight to preserve their home, in the process reliving glory days long forgotten.
Our mini-fest concludes at Midtown on Sunday evening with a 7pm screening of Air Born, a documentary about the children who grew up on Israeli Air Force bases in the 1960s and '70s.  Through interviews with some of these children (including the film's director), now middle-aged, we share a life that was idyllic and fun - with runways for bicycling and fighter jets for climbing - and simultaneously, a life lived in the shadow of war,  in which pilot-fathers sometimes didn't come home, and, in an instant, it could all be taken away.  A fascinating and memorable film.
Again, as seating for Reckonings is limited, please register for this free screening now at the Film Festival website, www.hbgjff.com.  Tickets for all Midtown screenings can also be purchased through our site, or at midtowncinema.com/jff, for $10 per film (Midtown Member pricing of $7 per film will be honored).  $40 for a 5-film package. Film trailers and synopses as well as additional information can also be found on our website. Questions?  Contact Jennifer Bodenstein at 717-236-9555 ext 3206.
See you at the movies!